Randy "Troubles" McMaster
Randy has been clowning for more than 15 years.  He started out handing out balloons at church events and ended up as a professional performer and a clown instructor.  What originally was a way to fund an opportunity to accompany a medical mission's team to Honduras in December of 2001, has grown into a clown ministry, a business and spawned the creation of two addition characters (Billy G.O.A.T. and Professor Merkle).
After returning from Honduras, requests increased for "Troubles"  & "Professor Merkle" to bring joy and laughter to thousands of people through company picnics, birthday parties, restaurants, hospital & nursing home visits, and what became the worlds largest Easter egg hunt (according to the Guinness book of records).
"Troubles" does great "Clown" illusions, silly gags and there's always something special for the birthday child to do with "Troubles"  as part of his birthday program (great "Kodak" moments.  Fun, laughter and surprises for kids of all ages are included.)
Professor Merkle is Randy's bumbling clown magician character more suited for those times when someone might not want a "traditional" clown charater.  His magic shows are always full of fun, magic, and a little mayhem.
Terry "Rainbow" McMaster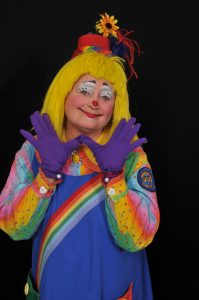 Terry has been entertaining as "Rainbow" the clown for 7 years, but living with a clown for 40 years (Randy "Troubles" McMaster – the last 15 yrs. officially as a clown).
She lives to bring joy into the hearts of children of all ages (small & tall).  She longs to bring a smile to a face with her jokes, stories, pocket tricks, balloon twist creations & face paint designs ("draws" a grin every time).
"Rainbow" has done many community events involving walkarounds, balloon twisting, face painting and working with "Troubles" in shows and skits (not to mention Birthday parties, company picnics, school programs); all of which help to financially support her clown habit.
It also helps to support a clown ministry which she and her husband, Randy, are co-boss clowns.  It is the "Joey Full Souls" Clown Ministry of Healing Place Church in Baton Rouge, Louisiana.  Check out www.healingplacechurch.org to find out about a great church.
Jingles and Belle, our Elf Clowns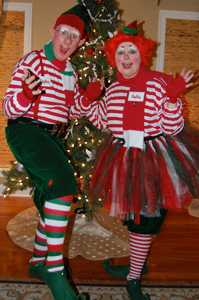 Christmas is coming!
We're ready to celebrate the Christmas season with you & your guests during your next Christmas holiday event.